Division of Cardiovascular Surgery
The feature of Cardiovascular Surgery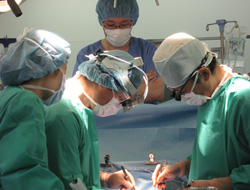 We mainly perform coronary bypass surgery, Heart valve surgery, Aortic Aneurysm-Surgery, and Maze surgery et al. Our policy is that we adopt safety treatment without applying burden to patients. We consider with top priority that our patients can keep their QOL (Quality of life).We have pre-operative orientation program for our patients. And we get informed consent.We have elaborate discussion about all the cases that it may do surgical treatment in order to offer effective treatment for every patient.
In our institution, we perform operations by inviting anesthesia doctor and operational assistant from Toyohashi Heart Center, Nagoya Heart Center and Gifu Heart Center. Moreover, we invite Dr. Okawa, Toyohashi Heart Center vice-director, as a supervisor.
If you request, your family can see your surgical operation. Please don't hesitate to ask us, if you want to know more detail.