Division of Cardiology
The feature of the division of cardiology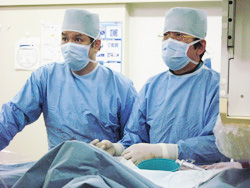 Our institution is equipped with the most advanced medical devices in order to provide the latest treatment like percutaneous coronary angioplasty, Rotablator and excimer lazer to such as ischemic heart diseases. We enthusiastically perform permanent pacemaker implantations, ICD implantations and CRTD implantations, too.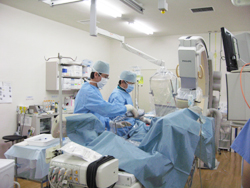 Patients can undergo coronary angiography only one-day.Coronary angiography is the most effective and harmless method for diagnosing angina or myocardial infarction.
We also perform arrhythmia treatment like Catheter ablation. In arrhythmia treatment, we invite some famous medical specialists, and form special teams. Each team has 90% or more success rate of complete treatment.
Families can watch the operation in progress at the viewing room. We are also providing support for their families.